Support WGNRR on Bonus Day!
Dear WGNRR members, friends, allies and partners,
Bonus Day is finally here! GlobalGiving are matching donations (of $25 and $500USD) for one day only from 00.01 – 23.59 EST. All donations, big and small are warmly welcome here!
Why Donate? 
The movement for sexual and reproductive health and rights (SRHR) has been witnessing a number of alarming rollbacks and restrictions. Nevertheless, WGNRR is committed to standing up for the rights of those who most lack social, political and economic power by spearheading global campaigns for SRHR. Through our partners & members, our campaigns have reached 15 million users online and mobilized over 800 organizations in more than 85 countries. Donate today on bonus day to show your support of our "long-game," vigilant & intersectional SRHR campaigns!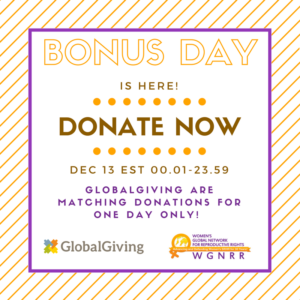 Can't donate? No problem! Support WGNRR by sharing this amazing opportunity with your contacts and on social media networks!
We are counting on you!
In solidarity,
The WGNRR team