Youth SRHR Advocates at the Post-2015 Summit!

We at WGNRR are thrilled that youth SRHR advocates will have a strong presence at this weekend's United Nations Sustainable Development Summit!  Through the Youth Leadership Working Group (YLWG) and with support from UNFPA, WGNRR and fellow YLWG members put forward seven youth SRHR advocates to join a group of young leaders in attending the Opening Ceremony of the Summit, organized by the Office of the Secretary-General's Envoy on Youth.
Two of our partners, Stefan Hennis from CHOICE for Youth and Sexuality and Ankit Gupta from the Youth Coalition for Sexual and Reproductive Rights (YCSRR) will be attending through our ECOSOC status.
We are likewise excited that fellow YLWG member, Jennifer Vinas-Forcade from Uruguay, will be participating in the Summit interactive dialogue "Delivering on a Revised Global Partnership," sharing a statement on behalf of the Latin American and Caribbean Youth Alliance and as part of the YLWG!
The United Nations Sustainable Development Summit is a historic moment in which world leaders will adopt the Sustainable Development Goals. Over the course of the Post-2015 processes leading up to the adoption of this agenda, WGNRR has emphasized and prioritized the participation of youth advocates and efforts to ensure the fullest possible inclusion of youth SRHR priorities. In the upcoming implementation of the 2030 Agenda, we consider it crucial that youth advocates are afforded meaningful space from the beginning to monitor their governments' national plans, in order to effectively address potential barriers or challenges early on, and ensure the fullest implementation of youth SRHR related-commitments.
Numbers of youth SRHR activists will also be attending the Summit through the Have You Seen My Rights? Initiative, a coalition of 40+ youth and youth-serving organisations including WGNRR, committed to ensuring young people's sexual health, rights and access to health services are effectively represented, supported and monitored in the SDGs. Together coalition members are urging world leaders to make #5pledges to young people's SRHR.  To learn more about the initiative and ways to get involved, click here.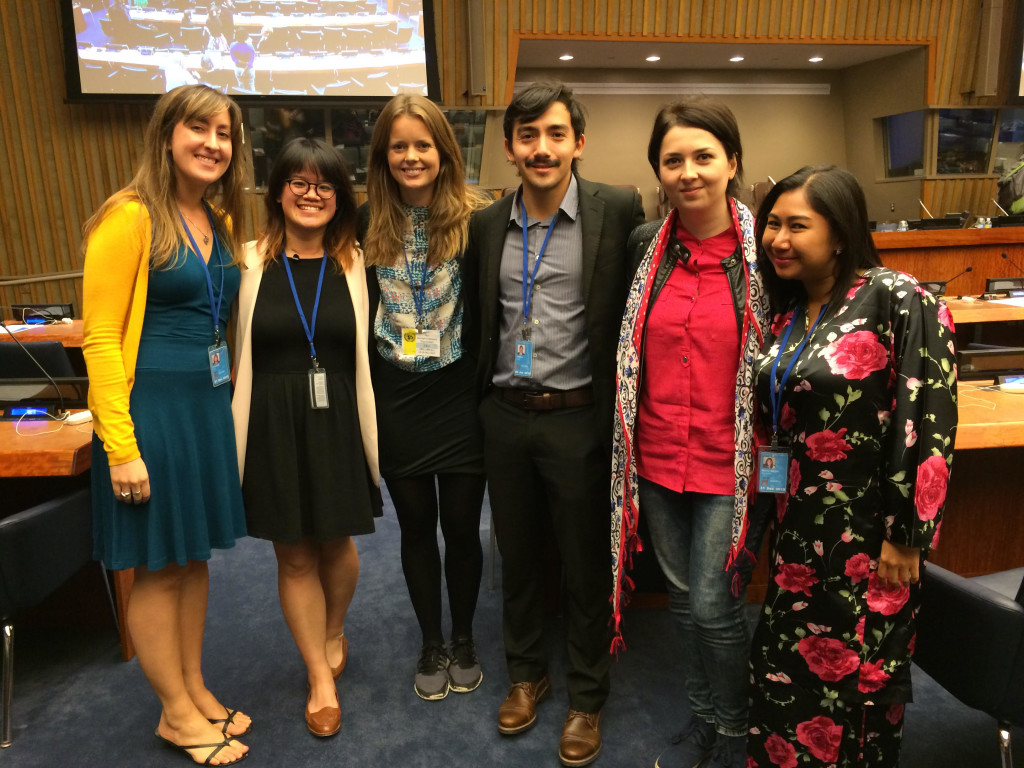 WGNRR Advocacy Officer Lara Cousins with fellow YLWG members at the May Intergovernmental Negotiation (IGN) session.
Photo credit: YouAct member Cecilie Morville