Women Human Rights Defenders break the silence on unsafe abortion in the Philippines
Women Human Rights Defenders break the silence on unsafe abortion in the Philippines
 January 22, 2016
Manila, Philippines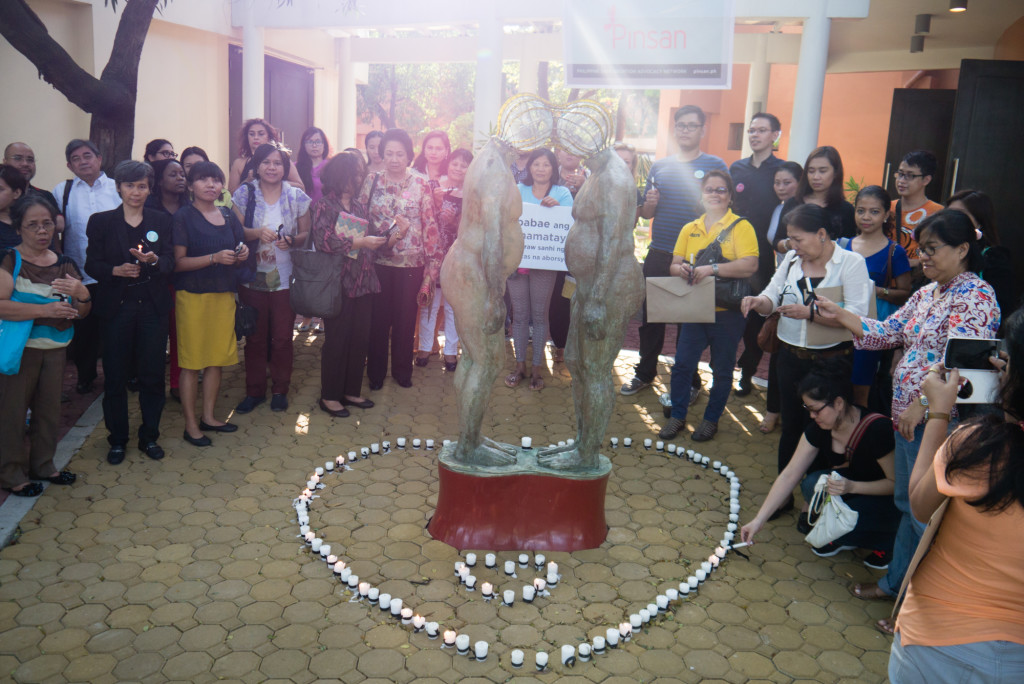 Criminalized under all circumstances, abortion remains a taboo subject in the Philippines, underlining the pressing need for open spaces and discussion on the topic as demonstrated at a recent public forum in Manila.
On Wednesday, January 20th, the Women's Global Network for Reproductive Rights together with other members of the Philippines Safe Abortion Advocacy Network (PINSAN), hosted a ground-breaking forum to discuss the harsh realities of unsafe abortions that result in the deaths of over a thousand Filipino women each year.
The Forum, entitled "Why do we need to talk about unsafe abortions in the Philippines?" was organized by the Philippine Safe Abortion Advocacy Network (PINSAN – www.pinsan.ph). Established in 2014, PINSAN is a Philippine-based network of sexual and reproductive health and rights activists, committed to working towards achieving the full realization of women and girls' human rights.
 The Forum was one of the first open public events in recent years to discuss issues and challenges surrounding abortion in the Philippines. It was attended by over 50 participants from local civil society organizations and media outlets, politicians and academics, government employees and officials, including representatives from the Philippines Commission on Women, the Population Commission, the Former DOH Secretary/Chair of the National Implementation Team for the RPRH Law and provincial DOH officers from Quezon City, Davao and Tacloban. There was a unanimous agreement to support the aims of PINSAN, to demystify and de-stigmatize abortion, and encourage public discussion on the realities of unsafe abortion. A number of speakers also supported the demand to decriminalize abortion to prevent women from being arrested and imprisoned.
At the end participants held a minute's silence and lit candles as a memorial to the thousands of women who have needlessly died from unsafe abortion and/or the denial of post-abortion care in the Philippines.
Said Kathy Mulville, Executive Director of the Women's Global Network for Reproductive Rights:
 "The Forum proved to be a great success, attesting to the growing concern among civil society members and government officials that the country's restrictive law has not prevented abortion, but on the contrary, only made it extremely unsafe, leading directly to the preventable deaths of thousands of women each year."
The Philippines is one of only six countries in the world where abortion is illegal under all circumstances, even in cases of rape, fetal impairment, or in cases where the pregnancy poses a threat to the woman's health or life. The absolute criminal ban on abortion violates fundamental human rights, including the right to life, health, non-discrimination, privacy, and freedom from cruel, inhuman, and degrading treatment, as guaranteed under the Philippines' Constitution.
The Women's Global Network for Reproductive Rights has worked for the past 10 years together with other local organizations in the Philippines, with the most recent efforts focused on expressing concern about the failure of the Department Of Justice to include exceptions to the total ban on abortion, despite overwhelming evidence of human rights violations as a result of the total criminal ban
To read PINSAN's Call for Action, please click here. If you'd like to find out more about the collaboration and what advocacy activities the network will be leading, please contact:
Clara Rita Padilla
Executive Director, EnGendeRights
Kathy Mulville
Executive Director, WGNRR
kathy@wgnrr.org
www.pinsan.ph
www.wgnrr.org